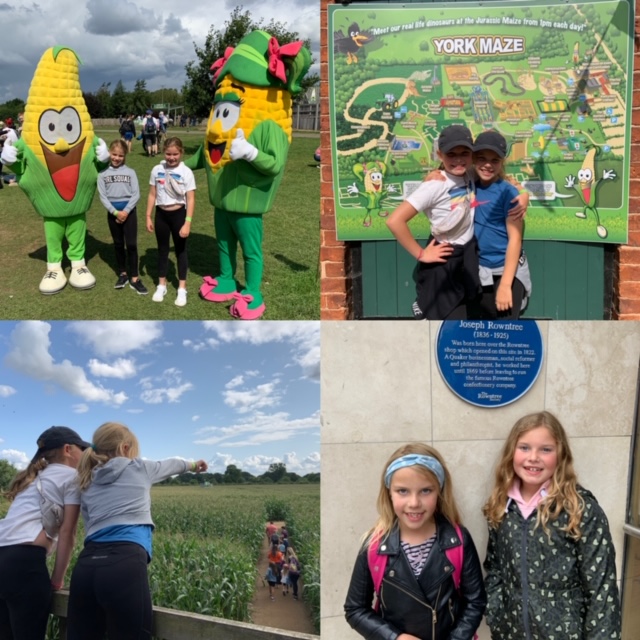 Being more than half way through the Summer aka – the rainy holidays, I was looking forward to spending my 2 days off with my girls Sophie (9 and a very important half!) and Phoebe (8). Having checked the weather forecast my best chance of a dry day was going to be the Tuesday and it looked like showers for the most of Wednesday.
I mentioned to Suzie, DCS Marketing Director, after being on my 'Activity bucket list' for a few years now, I was going to finally take the girls to York Maze! I had always planned to, after seeing everyone having a fab day on Facebook etc, time has previously run away from us feeling like I had blinked, and the summer holidays had once again come to a brisk end bringing with it the York Maze summer opening – leaving me thinking "next year I'm definitely going there!"
It was at this point that Suzie kindly offered me the company York Pass, explaining that DCS, as well supporting Visit York/Make it York in other ways also sign up to this. Not sure of the discounts that I would get but I could use it over 2 consecutive days with the cards we have.
Setting off Tuesday morning armed with a picnic, happy that this was the first dry/warm day we'd seen in a while. York Maze was well directed from the A64 and was as expected, busy, however ample parking and three payment huts that got people through quickly. To my delight by showing both York Passes Suzie had given me, I was able to get a family ticket pretty much for half price – normally £60, making a big difference to the total spent on the day!
We had a great day, and the girls loved it! Top tip – I would take a picnic rug if your children are old enough to queue by themselves if you would like to sit down whilst you wait, as it can be quite a lengthy process on a busy day.
We did most of the activities before heading into the main maze (I did also purchase the extra Maze Map for £1.50, as I fear I would still be in there if I had not!) The main maze was my favourite part of the day – it was great, so clever how they achieve such a large piece of art out of CORN!!!
Thankfully, we made it out alive! We continued to the remaining activities but now with a strange craving for corn on the cob…I ran off to treat myself at the Kernels Kitchen, whilst the girls burnt off any remaining energy on the Popcorn Pillow…it was delish! Now having chance to look at the other food options, they all sounded lovely and not too expensive approx. £6 for pulled pork sandwich.
I must also say I think one of the highlights of the day are the staff at York Maze, from the guys and gals manning the rides, the ones taking the money on the gate to the entertainment staff – these are the people that make it such a great day out, all so upbeat, friendly and a locker full of CORNy puns between them!
If you have a young family, you're sure to have a great day as there is something for everyone, I look forward to hopefully returning minus the kiddiewinks for the famous Hallowscream – if I dare!
The following day unfortunately the weather prediction was correct, and it was grim! We hopped on the Coastliner through to York centre. Going through the York Pass booklet as there was so many options, but with the weather in mind we narrowed it down to the York Museum, DIG or York Chocolate Story.
York Chocolate Story won!
We arrived in a wet but always beautiful York. We had a little wander around The Shambles and braved the rain under the parasols, whilst the girls tucked into a 'Puppy Dog' – of the eating kind from The DogHouse, I had the most delicious Persian Chicken Wrap, there is a reason Los Moros, scores so highly on Trip Advisor and is well worth a visit! As soon as the girls spotted "The shop that must not be named", they were gone! The Shambles really does make the perfect backdrop for the Harry Potter themed shops that have now appeared there.
We made our way round to York's Chocolate Story to purchase our tickets, having now used our York Pass the day before I thought, hopefully we'll get a bit of a discount on our entry fee which should have been £33.95 for one adult and two children. I requested the tickets and the next thing I knew she handed them over…completely FREE! Amazing!!
When we returned for our tour time slot (5 mins before is recommended) you queue to go up in the lift in small groups and when the lift doors open you are transported to a bygone era, the original Greengrocer shopfront of the Rowntree family which opened in 1822.
I have to say this being on my doorstep – I have never really thought about doing this "tourist attraction", but I thoroughly enjoyed it as did the girls. Our lovely guide was great, she knew her stuff and presented it brilliantly, but I unfortunately missed her name. How they take you through all the different aspects of the story of chocolate, it is so cleverly created with the added bonus of lots of chocolate samples along the way!
The tour takes about 1 ½ hours, but you can hang around the virtual factory longer if you wish. If you have not yet done the York Chocolate Story, tourist or not – I would really recommend it.
So, over a 48-hour period I saved £60 and got to experience two new attractions/days out in York for my family and I, all thanks to my company taking part in the York Pass.
Thank you DCS and Visit York/York Pass