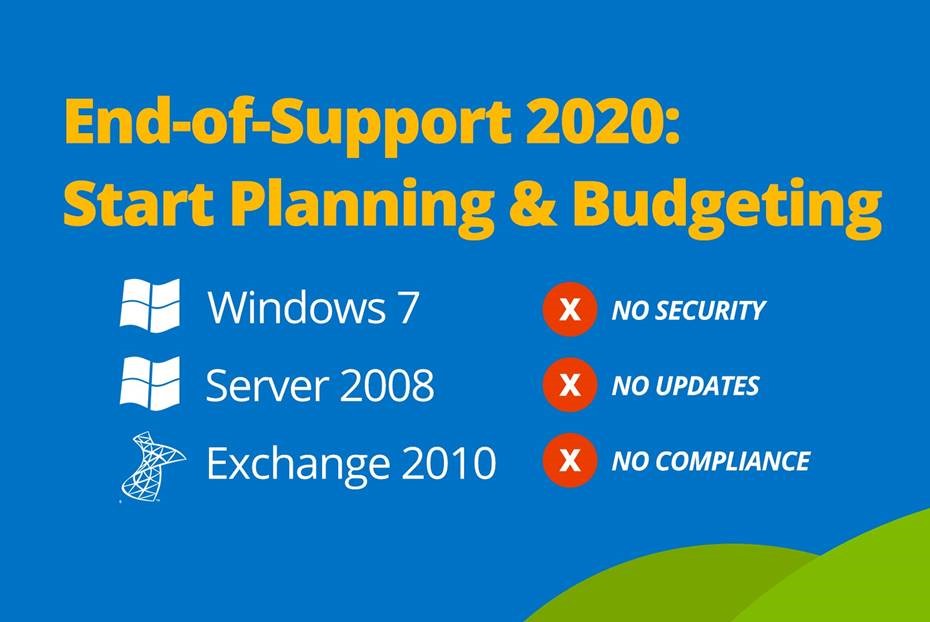 14th January 2020 is a key date at Microsoft with several products becoming End of Life.
If you are still using Windows 7 in your organisation or at home, then it's time to think about upgrading to Windows 10. January 2020 sees the end of support for Windows 7, Windows Server 2008 R2 and Exchange 2010. Microsoft will no longer provide security updates, technical support or bug fixes for these packages.
What does this mean? It means that if any new bugs or exploits are found then they will remain unpatched by Microsoft, leaving you extremely vulnerable to any emerging threats. In summary, you will be on your own if a problem arises!
2018 was by far the most disruptive year on record for cyber-attacks and it's only going to get worse in 2019. Companies that continue to use Windows 7 and Server 2008 beyond the end of life date can expect to face an even greater level of cyber risk.
Furthermore, ignoring the security aspects for a moment, with Microsoft no longer supporting Windows 7, how many manufacturers are going to continue to provide new hardware and software that is compatible with it? It is likely that new drivers for printers and updates for other software will not be forthcoming.
In the table below you can see the current dates that Microsoft will be ending support for various operating systems:
Microsoft Windows & Server Operating System EOL Dates
| | |
| --- | --- |
| Operating System | End of Life |
| Windows Server 2008 | 14/1/2020 |
| Windows 7 | 14/1/2020 |
| Exchange 2010 | 14/1/2020 |
What are my options?
You should start planning to upgrade to a newer Microsoft operating system – as both operating systems are made by Microsoft, disruption should be kept to a minimum when moving across. We would advise that you look at upgrading to the most recent version as this will have the longest life span – there is no point in upgrading to the next version, i.e. Windows 8 in the case of Windows as it's not going to be too long before that too enters its End of Life stage!
It may be that you will need to consider new hardware as the new operating system may struggle to run on older hardware but your DCS account manager will be able to advise you on this. The media is already full of stories regarding supply shortages so don't leave it too long as you may not be able to get what you want.
Should I be looking at Cloud? End of life for server products does create a demand for cloud migration. However, you need to factor in that you have the necessary Internet Service Provider (ISP) resources or the proper security infrastructure to support this transition. Again, DCS will be able to advise you on this.
January 2020 does seem some time away, however, the sooner you start planning your migration across, the easier it will be for planning your budget and scheduling dates with our maintenance team for the work to be carried out.