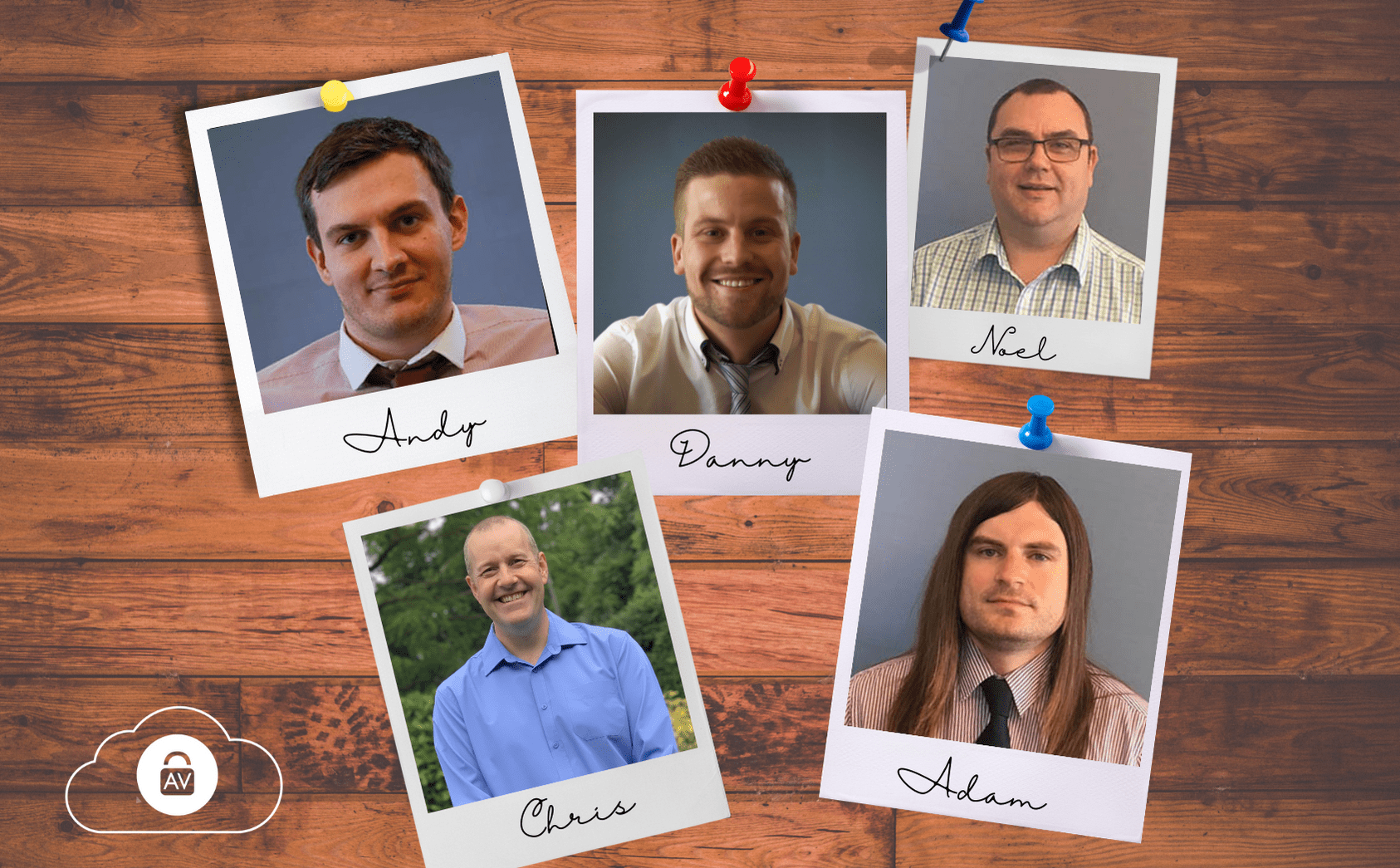 Here at DCS, we take cloud solutions very seriously, which is why we have now created a specialist site for our Amber Vault Cloud Services. We are very fortunate to have an awesome team of highly skilled DCS engineers; racking up years of experience in all things IT between them. But when it comes to providing the best cloud support this is headed up by our team of Amber Vault Cloud Superheroes…                                
5 Reasons you should choose Amber Vault…
1. My name is Adam Findlay…
I'm the Cloud Services Manager at DCS responsible for our Amber Vault Cloud Services.
I have been at DCS for 15 years, starting as a field engineer; then moving up to senior engineer supporting complex customer networks and working on technical pre-sales. I then took a sidestep to help form our cloud services department, which I'm proud to head up today.
It became clear several years ago that a general shift in the industry away from on-premise infrastructure and towards the cloud was underway. To continue offering our customers the latest technologies; we took the opportunity to build our own portfolio of cloud services. Now have a fantastic team dedicated to delivering them to our customers.
I have always loved working with the latest technologies and installing and supporting on-premise infrastructures for many years. I very much enjoy developing solutions to improve our customers IT services and systems; the flexibility and simplicity of the cloud are what makes it so appealing to me.
2. My name is Chris Lord…
I'm the Technical Director here at DCS and I'm also a Cloud Services Engineer in the Amber Vault Cloud Team for technical pre-sales and installations.
I've been at DCS now for over 23 years, I've gathered most of the Microsoft certifications available, all the way from Windows 95 to Window Server 2012 (with some Cisco and Veeam thrown in there for fun), and I have a wealth of field experience.
Not only have I seen massive leaps in technology and how we consume technology, but I also see clearly, the rate of acceleration at which cloud solutions are evolving. Luckily for me, I do get excited about all these changes (some say over-excited!).
If you're looking for the best cloud support for your business; there's nothing I love more than evangelising to anyone who'll listen about the benefits of existing and emerging cloud products.
I usually get a spike in attention when I explain we can actually reduce costs, effortlessly solve an ongoing business problem, and have a positive impact on the environment.
3. My name is Andy Blacklock…
Senior Field Engineer and Amber Vault Cloud Service Engineer.
I specialise in web hosting, maintaining web servers and migrating new customers websites to our servers. I also set up Amber Vault Hosted Cloud Servers and the management of the system along with the rest of the cloud team, who are all just as passionate about the capabilities of cloud solutions as I am.
The reason I love working with our Amber Vault Cloud Services is that we can control everything we need remotely, so no matter where your business is based, it makes no difference to the world-class service you receive.
It is also a bonus not having to rely on any middlemen potentially slowing down the process, Cloud is the most reliable option for your business, as not only is it safer, protecting you against a cyber-attack or disaster situation, the risk of outages is minimum.
It is also the better option for our planet as we're removing the physical servers/hardware from customers sites that need regular maintenance but unavoidably will still end up on landfills when obsolete.
4. My Name is Danny Robinson…
Amber Vault Cloud Service Engineer.
I have been a Field Service Engineer with DCS for 5 years and I'm happy to say I have now been involved with Amber Vault Cloud Services for several of those. I am proud to be involved in this exciting, ever-growing market; that I feel will soon replace most on-premise services changing the way of future IT solutions for most businesses.
Over my years here at DCS, I have honed my skills and gained a diverse range of IT experience in both cloud solutions and the many other IT services we provide here at Amber Vault and DCS.
I specialise in SQL and web services, I also like to think of myself as a GURU in the Monitoring products arena, which I introduced to DCS.
5. My name is Noel Rogers…
Technical Support Manager at DCS and an Amber Vault Cloud Service Engineer.
I am the newest member to join the Amber Vault Cloud team. However, I'm proud to say, I have over 30 years of experience within the IT industry (26 years being at DCS.)
This ranges from the days of MS-DOS, Windows 3.1 and Novell, through to the current available Operating Systems.
I have several certifications including Microsoft server technologies and Veeam.
Cloud technology is becoming increasingly used for essential off-site backups, and having hosted servers; be it Azure, SQL or web services and is now playing a large part in the world of IT.
I always find new technologies intriguing and it makes me wonder what the next big thing could be.
Maybe Planet or Star servers.  (You heard it here first : -). Whatever it may be, I always look forward to the exploration of these technologies.
If you would like to know more about how Amber Vault Cloud could work for your business or you're looking for the best cloud support for your business; speak to one of our account managers or our specialist team today. We love talking cloud and providing solutions that we know are the right fit for your business needs.
Message [email protected] or call 0800 0590 190