Software
The recently launched CRM and Service Management Solution from DCS
With the added feature of Dealer Mobile bringing you real-time access from your Apple mobile devices.
Company Contacts
The CRM Software records multiple contacts holding job titles, direct dial and mobile phone numbers, e-mail details and contact memo notes. E-mails can be directed to any contact by a mouse click and a contact can be found throughout all the customer records from a surname enquiry or by a global e-mail look-up. Facility provided for Salesman Call Management using varying call frequency.

Dealer CRM
Dealer LITE CRM allows you to track enquiries from the first call or visit to your website to placing an order, which is sent directly to your accounts package. Dealer LITE will save you time by avoiding duplication of information. You only need to enter the information once and this is visible to all your team.
Information is key to developing business and Dealer LITE enables the whole company to view business reports, KPI dashboards and vital information such as outstanding Quotes and Order details at the click of a button.
With links to Microsoft Outlook and Word and with integration to Pegasus Opera, Exchequer or Sage 50 accounts enabling real time enquiries directly from the back office accounts.
Benefits to your business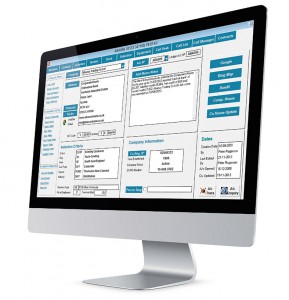 Improve customer service with real-time accessible information on all transactions and communications, so your staff can manage your enquiries.
Save time by avoiding duplication of information, with a central transparent system.
Access up-to-date business information, with links to Google, Companies House, Bing Maps and Duedil.

Dealer Services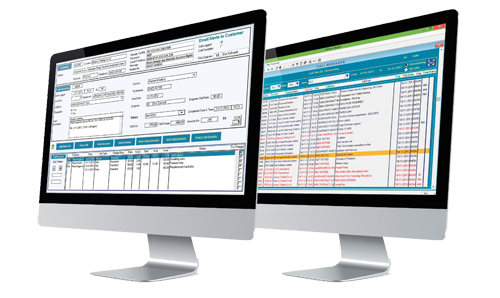 If you have field engineers servicing equipment and who provide Contracts and Service Level Agreements for their customers then Dealer LITE is for you!
The service manager screen can be filtered by engineer status or call basis and shows the total number of calls outstanding.
Managing a variety of contract types including equipment, software, subscriptions and any renewable services, with Dealer LITE Services you need never miss invoicing a call or renewal again. Dealer LITE enables you to record the costs against each call so that at renewal time you are able to make an informed decision as to whether the contract has been commercially viable.

Dealer Mobile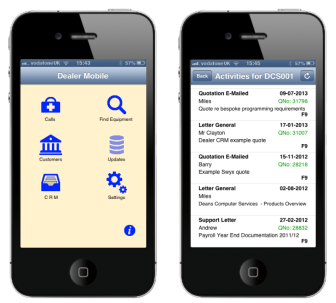 Dealer Mobile for iPhone and iPad gives you access to your crucial information wherever you are without needing to use remote desktops.
Download the Dealer Mobile brochure.
For CRM
Find customer details and click the phone number to dial to update them when you are en-route.
E-mail directly from the contact record and add and update contact records while on the road keeping your CRM data current.
Discuss and view quotes with your customer whilst hiding sensitive margin and cost price details with "Customer Mode"
E-mail amended quotation from your device, keeping both your customer and your head office up to date.
For Service Calls
View all outstanding calls or just those for a selected engineer.
Drill down to see customer details and map the route to their offices.
Add and view time entries so head office systems can be up to date in almost real time and can see immediately when a job is completed.
Collect and record customer signatures which are time and date stamped.