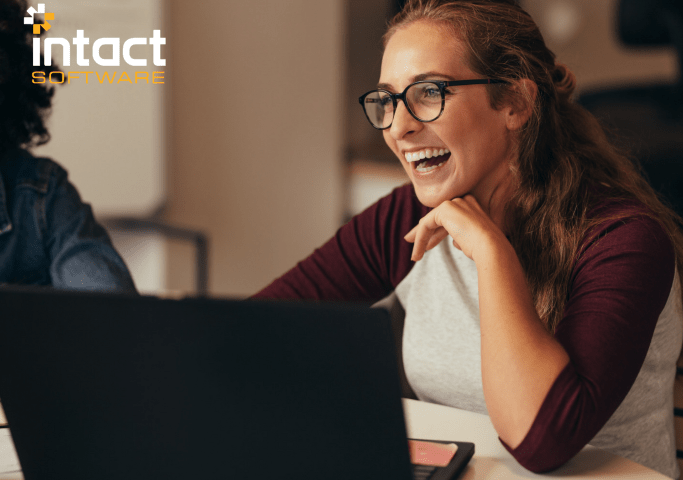 Thank you to our partners, Intact Software, for this great article and for letting us post it as a Guest Blog
Bespoke ERP software refers to any custom-built application that is effectively written from the ground up to suit the particular needs of a company. Predominantly the remit of large, complex organisations with big budgets and very specific requirements, it is still seen by some companies as the right investment for them. But there are other options available today that we want to demystify for you in this blog.
With the advancement of technology, many out-of-the-box, flexible and modern ERP software solutions on the market today now incorporate customisation tools tailored functionality. And with a wide variety of industry-specific solutions available, it is now easier than ever to get an ERP system that caters for your particular needs. And all without the cost and time required to build and maintrain a fully bespoke ERP solution from scratch.
So how can you make the most of these new customisable, off-the-shelf ERP solutions? We discuss this and highlight the benefits of bespoke ERP in this blog. We also briefly outline the pros and cons of packaged ERP vs bespoke ERP and offer some advice when deciding which option is right for you.
What is Bespoke ERP?
ERP (also known as customised software or tailor-made software) refers to ERP software that is specifically developed for a client or organisation to meet their exact requirements. Often built from the ground up using the company's own resources and dedication, it is tailored to accomplish their own specific business processes and goals.
Traditionally, bespoke ERP was seen by large or complex organisations as their only route to accommodating their particular preferences and expectations. Commercial off-the-shelf solutions were often found to fall short of their requirements.
Times have changed however and technology has advanced tenfold. The lines between a fully-bespoke ERP software that's been built from scratch and an out-of-the-box solution that can been tailored to meet your specific needs has narrowed massively in recent times.
Today there is little requirement to build a Bespoke ERP solution from the ground up. Many modern ERP solutions now offer off-the-shelf 'Bespoke' or 'custom-made' functionality features that go beyond generic 'one-size-fits-all' ERP solutions. They offer industry-specific ERP software that provides all the essential tools for accounting, finance and business management. But they also offer features and capabilities tailored to your industry and operational needs. Some go even further with in-built personalisation tools that empower you to configure your own rules and controls without having to revert back to your vendor. And this is where you can really make the most of these new-age bespoke ERP systems.
For the purpose of this blog therefore, when we refer to 'bespoke ERP', we will predominantly be referring to modern-day, out-of-the-box, flexible ERP software that comes with customisation and personalisation tools that can be tweaked to your specific needs.
What are the benefits of implementing bespoke ERP?
With the flexibility provided by the latest ERP software solutions, it is now possible to get the best of both worlds; a standard 'out-of-the-box' configuration that comes pre-loaded with industry specific functions and features that can also be quickly and cost-effectively customised to suit your exact needs. And the benefits are huge:
Make it personal and productive – Modern, flexible ERP software gives you the tools to easily customise each employees' screens to ensure minimum keystrokes whilst restricting their access to only what they need. This way, you create a more empowered and productive workforce whilst maintaining maximum control through end user security policies.
Automate and save time – Business specific workflows, triggered alerts, scheduled reporting, user-specific dashboards, security policies, audit trails etc. set up by you can enable you to manage by exception and save users many man-hours trawling through data or reviewing manual business controls.
Integrate with ease – With cutting-edge REST APIs, you can quickly, easily and seamlessly implement best-in-breed solutions for any specific problems not addressed by your ERP, e.g. unique warehouse functions or logistics etc.
Easily Extend and Scale – Modern bespoke ERP platforms are robust, flexible and configurable. They can adapt to the ever-changing needs of a growing business enabling you to quickly and easily meet market challenges, pivot and take advantage of new opportunities. Solutions such as Intact iQ allow you to make changes to your system without impacting your upgrade path and we provide you with the training required so you can implement these changes yourself in a secure, controlled manner.
Embrace ecommerce and mobility. Today's ERP systems embrace all things ecommerce and mobile with webshops, customer account portals, mobile apps etc. all easily added to and seamlessly integrated into your solution.
Package vs Bespoke ERP – which is right for your business?
Every business is unique. They come in all different shapes and sizes, supply every conceivable industry and serve an endless array of clients. For that reason, many companies went down the route of developing a totally custom, bespoke ERP software solution. Commercial, out-of-the-box or off-the-shelf ERP solutions were often found to be too restrictive and required fitting their business into a one-size-fits-all package. This is no longer the case. There is a wide variety of out-of-the-box solutions that incorporate customisable tools and tailored functionality to the mid-market. And you can clearly see in our pros and cons list below, that packaged ERP now compares very favourably against traditional bespoke ERP.
Bespoke ERP
Pros
Individually crafted solution
You own the software and pay no licence costs or maintenance
You can continue to develop upon it as you grow and scale or as your needs change
Cons
It can be expensive and time-consuming with no guarantee that it will be a success
If further development or tailoring is required, including integrating with 3rd party platforms or satisfying new regulations, the costs can be significant
On-going testing is required to ensure it functions as expected
The upgrade path can be complex and costly
In-house skilled personnel is a prerequisite
Narrow vendor pool
Flexibility claims can be superficial to win the sale
Packaged ERP
Pros
Wide range of solutions available with some catering for industry specific nuances
Tried and Tested in the marketplace
Generally accommodate a range of functionality, configuration and customisation capabilities.
Out-of-the-box solutions tend to be easier to implement and more cost-effective
Systems are supported, documented and an upgrade path is available
Often sold on a module basis so you only pay for what you need. When required additional functionality can be quickly and easily added, including ecommerce, mobile and 3rd party platforms
Regulatory compliance is provided and usually free of charge
You can upgrade with zero restrictions (but please check with your vendor as this may not be true for all)
Cons
The ERP vendor owns the software
The capex model can be an expensive outlay initially. It is however worth asking your vendor if they offer SaaS options.
Out-of-the-box ERPs usually can't fulfil all business requirements as they are built for a mass market rather than a specific company. REST APIs would be vital here in order to seamlessly integrate best-of-breed solutions.
Key Takeaways
Bespoke ERP has, in the past, had a bad rap. And rightly so. It was expensive and time-consuming with no guarantee of success.
But standard ERP software solutions have evolved massively, providing greater flexibility, customisation and integration capabilities.
There is no need now to think that building a bespoke ERP software from scratch is the only way forward for a business looking to cater for unique requirements.
There are a wide variety of options out there today including industry-specific or vertical-specific solutions that are built for your sector and satisfy industry nuances.
However, if you are looking to gain a competitive advantage through a standard, out-of-the-box ERP, it's important to ask from the outset what capabilities your software has and the vendor's process in providing them.
Not all are built on the latest technologies or included codeless customisation tools such as Nexus, Intact iQ's tool that empowers your system admins to manage by exception using the 'If This, Then That' principle.
Therefore, if you're looking to make the most of bespoke ERP software, our advice is to do your research, select an industry specific software package that enables you to start with the functionality you need today and scale with additional functionality when ready.
But more importantly ensure your system offers advanced levels of control and autonomy to facilitate continuous improvement and extends the life of your system.
We hope that you found this Blog helpful. It may have answered some of your questions but posed some more. The ERP team here at DCS are always happy to speak to you regarding any queries you may have on the options open to you.