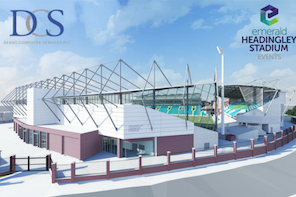 This year's annual Spring Conference will take place at the new, world-class Emerald Stadium at Headingley on Tuesday 21st May. DCS will be hosting the first business event in the ground-breaking Emerald suite, which is the only suite in the world to overlook two magnificent stadia!
As well as the opportunity to be one of the first to see the venue, there will be masterclasses from Google and the Yorkshire Regional Cyber Crime Unit, both aiming to help you get your business visible on the web and stay safe.
We will be sharing practical tips and IT advice throughout the day. There will be a host of IT experts on hand covering subjects as diverse as Cloud services and solutions; both Cloud and on-premise ERP and accounting software; data protection and security; business intelligence software; warehousing; time and attendance; electronic point of sale; stock forecasting and bespoke/custom programming. So whatever industry you are in, there really will be plenty for you to gather information on.
The DCS Spring Conference offers the benefit of attending the event and being able to informally discuss software capabilities and services with the authors; attend demonstrations, interact with some of your peers and being able to compare multiple vendors all under one roof in one day.
Visit the DCS Lab where you can see our disaster recovery solution in action and ask our team for advice. Join our IT support team for a coffee or lunch and put your business IT questions to them.
For early bird registration and more information on the latest speakers to join our line-up, visit https://www.deansplc.co.uk/early-bird/ or email your registration as our VIP guest at [email protected]
Amazing things happen at Headingley with DCS on the 21st May 2019