Cloud accounting ERP software
Iplicit Cloud ERP Accounting Software
Brought to you by the Team that originally created Exchequer® and recently awarded "UK's Best Mid-Market & Enterprise Accounting Software" at the Annual Accounting Excellence Awards.
iplicit is a finance and business system built specifically for The Cloud. Offering centralised data in one place, enabling you to analyse trends quickly and speed up decision making.
Why not take our 15 minute overview now from your desk?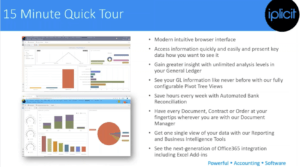 The Benefits
Get the customisation and functionality you need to run your organisation efficiently, securely and cost effectively. From rapid implementation to a solution that meets your changing needs, Iplicit is your answer.
Find out more about the story behind iplicit cloud accounting software
Realise the benefits of moving to the cloud now.  To request more information, just get in touch with us