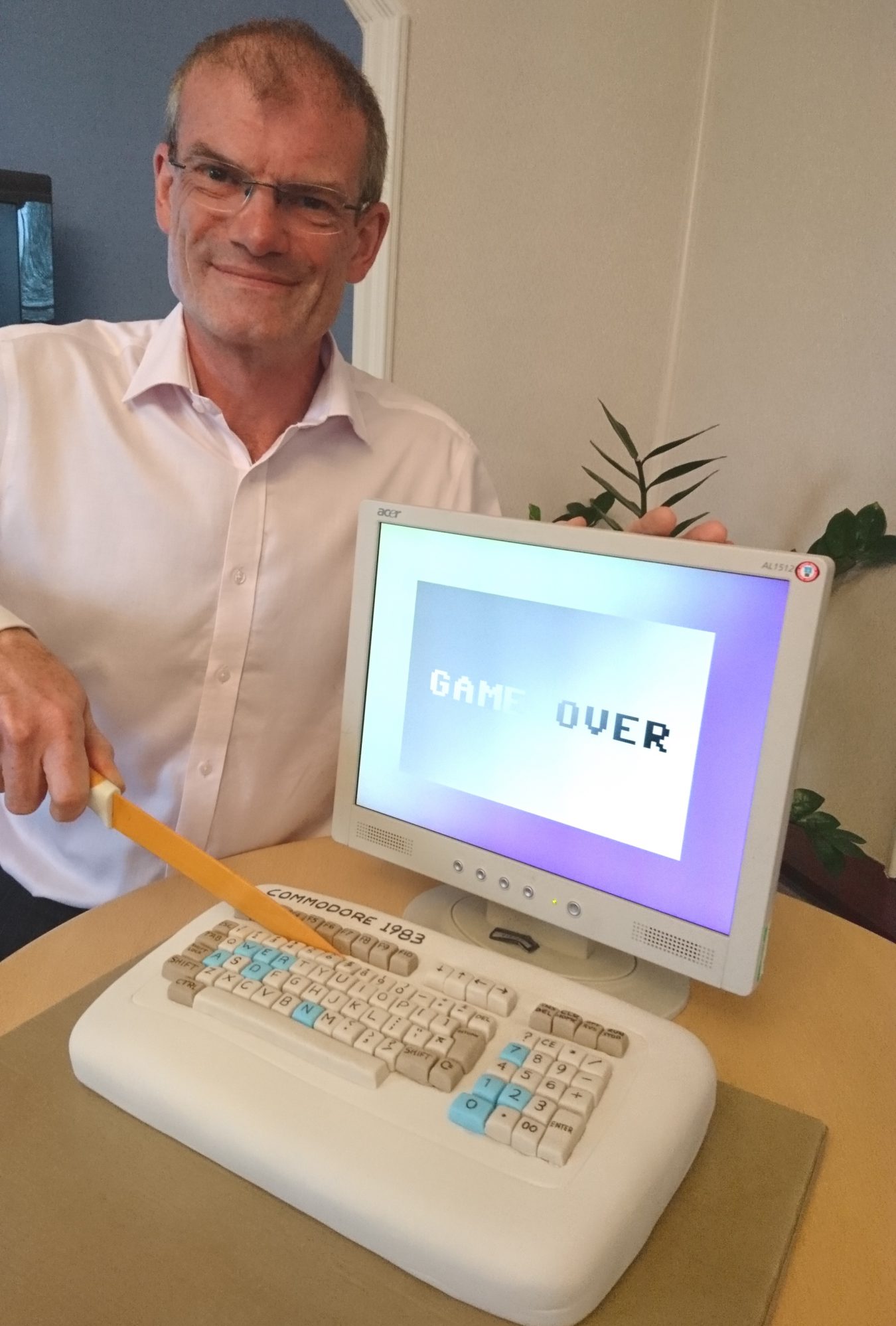 DCS director is signing off after 34 years' service
After almost 34 years of service which has seen him progress from YTS trainee to Managing Director, Andrew Tones has retired from his position at DCS.
We marked the occasion with a specially commissioned cake in the shape of one of the early Commodore computers which DCS used to sell when Andrew joined back in 1983 as a 17-year-old self-taught electronics hobbyist with a passion for programming some of the earliest PCs, including the Sinclair ZX81 and BBC Model B. Andrew started out as an engineer before being promoted to head his own department and progressing to the board of directors. In the last few years he reduced his day-to-day involvement but remained on the board as a mentor to the current management team.
Current DCS Managing Director, Patrick Clayton, said: "Right from the start, Andrew has been such an integral part of the DCS story that his departure feels like the end of an era. We hugely appreciate Andrew's absolutely vital contribution to the company's success and wish him a very happy retirement."
We asked Andrew to reflect on his time with DCS, which encompasses a number of landmark developments in the industry. We'll hand you over to the man himself to tell his story…
"When I joined DCS it was a new venture with couple of rooms in a dusty warehouse near the centre of Leeds. We sold some of the first Commodore personal and business computers such as the Commodore VIC20, Commodore 64, the Commodore PET and 8000 series. They all used BASIC as their operating systems. At the time our customer base was retail and wholesale newsagents and then, as we took on Pegasus accounts software, our user base widened further to the SME market. At the same time word processing, spreadsheet and database software was also starting to emerge.
My role involved everything from demonstrating systems, writing software, installing and repairing the faulty equipment when it went wrong, which was very frequently! When a PC failed it was a case of getting out the A3 circuit diagrams, the oscilloscope and soldering iron and start working through diagnostics until the failed components on the board had been located. I would then trawl through component catalogues to try and find suitable replacement parts to complete the repair. Today the faulty board would just be thrown away.
After a lot of success with the Commodore range we started to sell the Sirius Victor range of computers which, unlike the Commodores, had one of the first smaller sized Winchester hard drives of about 10Mbytes capacity and a CPM or MS-DOS operating system. Shortly after the Sirius we became an Apricot reseller and the new MS-NET Omninet networking technologies that Apricot introduced meant that multi-user systems became cost-effective and available to SMEs. This resulted in DCS venturing into network cable installation.
DCS relocated to bigger offices near Street Lane, Leeds, and around this time I remember getting my first Carphone! These days it's easy to take for granted how easy it is to call someone, but I remember having to a find call box and ring into the office every time I was leaving a client. The new Carphone allowed me to provide technical support wherever I was.
The Apricot computer range continued to develop with further versions of the MS-DOS operating system and the advent of Windows 3.0. DCS continued its expansion and the maintenance department split into a separate office down the road at Margaret House. This gave us much more room to preconfigure machines and run a separate helpdesk for our clients. Later we relocated the whole company to much larger premises at Bowcliffe Hall, Bramham. It was while we were here that the next huge development in technology took place – the use of a modem with a PC and the ability to send and receive data up and down a telephone line. Whilst the first modems were very slow unreliable 1200 baud rate devices, the speeds and reliability soon increased. This initially meant we could dial into data sites called 'bulletin boards' to access information and software we needed. It also meant using a very early version of 'PC Anywhere' remote access software to dial into a PC from a remote location. This was, of course, the beginning of the internet. The bulletin boards became interconnected and became accessed via a public IP address or a web address through an internet dial up point of presence. Initially it was all very basic, and with not that many internet sites, but as modem performance increased so did the number of sites and the ability to send email to anyone else who had an email address at the time.
Not only did hardware advance greatly during this time, but operating systems also advanced with improved releases of Windows 3.11 and Windows XP running on an MS-DOS platform. Then the all-new Windows 95 did away with MS-DOS as the default starting point. In 1997 we expanded further and purchased Boston Lodge in Boston Spa, which has been our home ever since.
It was here that we managed the Y2K issues. Many older computers were unable to cope with the date rollover into the new 21st century, requiring many upgrades and replacements of hardware and software. Windows operating systems continued to evolve and hardware continued to increase speed, storage and reliability at less expense.
It was at Boston Lodge that the next big development in technology arrived with ADSL / broadband internet connections. It was a major leap in the speed of permanently connected internet. It resulted in client's networks being permanently connected to the internet and therefore we could practically provide remote support by connecting onto a client's system. At a similar time hardware had become much more reliable and so many issues actually related to, or could be solved, by changing software configurations. This resulted in engineer's roles changing over a period of a few years from driving many miles to visit clients, to being much more office-based. Today our remote support services continue with advances in remote support software and remote server monitoring software that tells us when there is an issue at a client before they even are aware of it.
The industry has changed beyond recognition in the past four decades, but DCS has successfully adapted and stayed at the forefront to become an authority on a broad range of IT issues. One of these issues is the next major challenge for the industry: tackling the global increase of computer viruses and cyber security threats to networks, data storage and services accessed in that space. It's an area of expertise which DCS are well positioned to provide and this is already driving the company's next phase of growth. For me, it's time to sign off after 33 years and six months!"