Amber Vault Cloud & On Premise Backup Solutions
With your data secure in our Tier 3 datacentre in Yorkshire, there will no longer be a need to manually back up your data and it will be encrypted both on site in our datacentre and while in transit, with your own encryption key.
The Amber Vault family of back-up solutions for every business or organisation, no matter what size are:
Amber Vault
Business class managed and monitored cloud backup for virtual servers and critical workloads. Stores a complete snapshot of your virtual servers in the cloud that can be restored in a handful of mouse clicks.  Suitable for any company running a virtualised server infrastructure with a requirement for an offsite backup.
Amber Vault Lite
Automatic cloud backup for critical files and folders or physical servers and workstations. Ideal for backing up a critical application such as an accounting program or laptops containing important company data. Cost effective to ensure that no company should be without an offsite copy of their business-critical data
Amber Vault Replication
Scheduled replication critical virtual servers to the cloud which can be switched on instantly in a disaster situation. Failover provides instant connectivity to your business network via an automatic site to site VPN or an external dial in VPN if your office has suffered a disaster. Fall-back to production seamlessly when your primary servers are back on line.  Scalable monthly cost. Ideal for any company in need of a full disaster recovery solution
Amber Vault Archive
Free up space and extend the life of your server by archiving off historical data to the cloud.
Amber Vault solutions are on a monthly subscription, payable monthly by direct debit, with various data plans available.  Speak to a member of our team to discuss.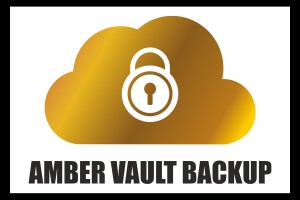 With Amber Vault's excellent compression techniques, superior performance and block level incremental backups, you will have the ability to retain days, weeks, months and even years of point in time backups.