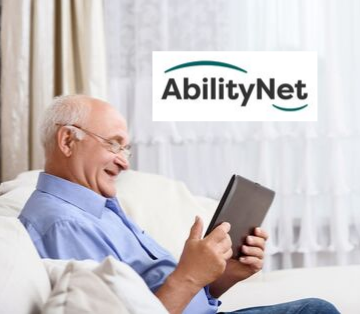 A digital world that is accessible to all
As a 45 (soon to be 46) year-old living and working in the digital world, I'm often amazed by what I can learn from my 10-year old daughter when it comes to digital technology. She is what might be called a 'digital native'. She was born into a digital world and has been learning from, and adapting to, new digital technology ever since she got her hands on her first device.
But what about the rest of us? What about the generations who have lived most of their lives outside the digital world or those who have not found an accessible path into the digital world? Is the digital world for the many but not for all?
The answer increasingly is 'no'. The digital world can be for everyone. Recent innovations in software and hardware mean that it has never been easier to have the tools available to help support everyone in the digital world.
But there's a problem. How can digital technology itself engage with those people who are on the very fringes of the digital world and make them aware of the innovations and tools available to support them? The simple answer is that it can't.
So, what can?
As with many things, the power to spread the necessary knowledge lies with people rather than technology in this respect. I'm sure we've all helped a friend, a parent or a neighbour with a query such as "How do I send an email with an attachment?", "My internet doesn't work. Can you take a look?", "My printer is flashing, and I don't know why. Is it broken?" etc. Usually, it just takes a few moments of our time to help and we've passed on knowledge that can truly change a person's life. We just don't notice the impact it has. In turn, we've also empowered a person to share that knowledge with others.
But what happens when there are specialist questions we can't answer or when someone doesn't have anyone to ask?
This is where a charity I got involved with a few years ago steps in. For almost three decades, AbilityNet have been helping people, of any age and with any disability, to use technology to achieve their goals at home, at work and in education. They achieve this by providing specialist advice services, free information resources and by partnering with organisations to help build a more accessible digital world.
Although only a small part of what they do, my specific involvement has been to become one of over 300 nationwide disclosure-checked volunteers who visit older or disabled people in their own home to provide a human connection to technology.
AbilityNet's approach is to never make technology happen to a person or force a person down a path they're not comfortable with. We're there to answer questions and make suggestions that are in-keeping with the pace of technology suitable. By discussing and presenting possibilities, the person we're visiting decides how they want to proceed.
Sometimes what can seem so trivial is so important. For example, in an increasing age of social isolation, helping someone to connect with others via email, Skype/Facetime or to access radio or TV online services can make a big difference.
I've truly enjoyed being a part of the AbilityNet family and have been privileged to meet with and speak to some wonderful and inspiring people. As is often the case, I've benefitted from volunteering as much as (if not more than) the people I've tried to help.
If you can think of anyone who could benefit from any of the services AbilityNet offers, you can contact their helpline on 0800 269 545 or email [email protected] I've also included some useful links below which give you a bit more of an idea of what the charity offers.
About our volunteers: https://abilitynet.org.uk/at-home/about-our-volunteers
Case studies of how we have helped people: https://abilitynet.org.uk/at-home/case-studies
Free factsheets: https://abilitynet.org.uk/free-resources/abilitynet-factsheets
My computer my way: https://mcmw.abilitynet.org.uk/
My study my way: https://abilitynet.org.uk/DSA/my-study-my-way
Volunteer video case study: https://www.youtube.com/watch?v=pXsCgTmxz24