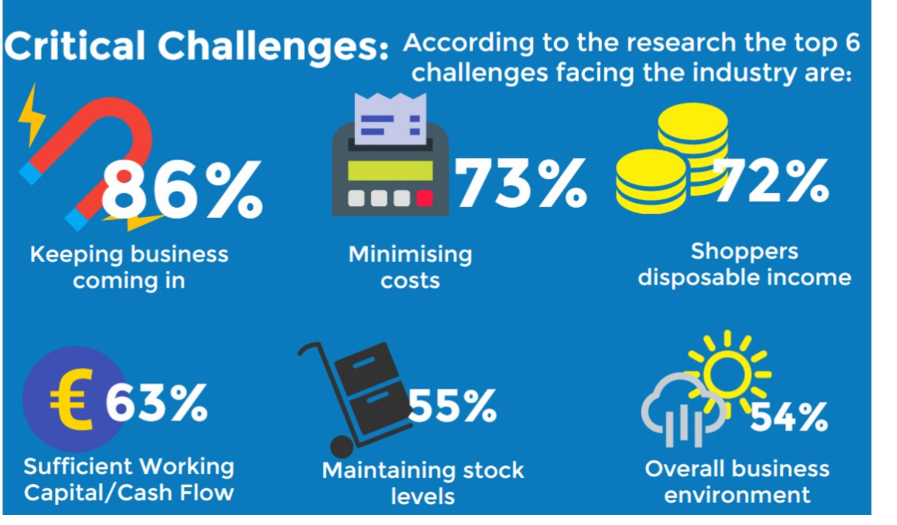 Interesting information from Intact, our business partner whose iQ software has proved so successful with trade and builders merchants.
Profitability, minimising costs, maintaining a good level of cash flow, stock levels and good customer service are key for any business.  It's not just about having the right job management software although that does help!. The recent survey from The Hardware Association of Ireland (HAI), the national body for hardware/DIY retailers and builders, merchants as well as manufacturers and distributors of trade, has seen these priorities being raised in their Member's Confidence Survey  last year which priorities will also be shared by tradecounters focusing on supporting building and construction in the UK as well.
55% found it a challenge to maintain stock levels and 54% struggled to maintain the overall business environment.
Despite improvements in the UK,  key economic indicators have shown some builders' providers were still not seeing real growth earlier on in the year compared to the rest of the economy. However, towards the end of last year the picture has been rosier as BMF's sales figures released for  Q3 2015 showed growth up by 2.8% compared to the previous year, with the largest growth being in Plumbing, Heating and Electrical – this could probably be anticipated given our British weather!
So to attract, retain and maintain your customers who remain extremely price conscious and are looking for value for money, then take some tips from our partner guest blogger Fiona McGuinness at intact software who work closely with businesses in these industries. Find out how 5 key business opportunities could reshape and enhance your business, with practical information on how to sell online to creating innovative pricing, discounts and promotions, as well as outlining just some of the ways they feel builders' merchants are missing out on improving their sales and value-added customer service.
1.  Take advantage of new sales channels
Unless you've been hiding under a rock, consumers are doing their research online before they ever visit you. It's about the best price, the most convenient place to purchase and how quickly they can get what they want. Some stores offer a click and collect service where customers come in with the exact code of the product they're looking for.  This is because they've done all their research and know exactly what they want.  If collecting doesn't suit them, they can also get products delivered.
This highlights the importance of reaching more people online and selling through an eCommerce website.   It also offers a great opportunity to upsell featured items, discount ranges and related products.

Integrating a B2B or B2C eCommerce website to your ERP (enterprise resource planning) system allows for the seamless movement of data between your back office operations and your online store. It's a great way of generating additional revenue 24/7 but it is not something you can turn on at the flick of a switch.
Your investment will reflect the level of complexity required and the overall digital strategy you wish to pursue. While many businesses choose the path of least resistance and simply duplicate their ERP data on to an independent website, this, unfortunately, can result in huge issues with data duplication, human error and timing problems.
When done right, an integrated online shop will see you managing a single database where all stock information, pricing and products are updated in real-time on your web store as changes are made in your back office system.
2.  Set up a Customer Loyalty Program
It's no secret that loyalty programs are effective marketing tools. They enhance the overall value offered to the customer, help to retain customers and improve your brand's reputation.  If you haven't yet employed a loyalty program into your business, you may be missing out on one of the best and easiest tools available to improve your business.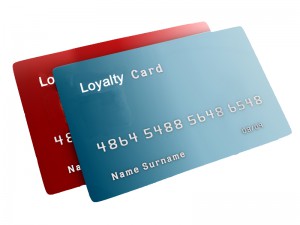 Loyalty schemes can be a great way to differentiate your business in a crowded marketplace. Getting pushed into increasing dynamics of low margin and high fixed costs is a situation that is bound to result in a price war, stripping profits from your business.
While you do need a system that supports running a loyalty program, once it is set up it stops being work.  You simply design a special card that allows customers to get a certain number of points for every purchase that corresponds to the amount of money they spend. Your customers can then utilise these cards to get free gifts or additional discounts on subsequent purchases.
This method is highly effective and is proven to work. The biggest supermarket chains have recorded a record number of sales over the years – and so can you.
Don't forget vouchers or gift cards are also great marketing tools:
They enable you to reach consumers you typically may not have reached and represent a means of stimulating additional purchases.
They are highly targeted and the recipient is certainly motivated to use them, making it an even more efficient method of offering your services to others.
They are personal proposals of satisfied customers, building your business's credibility and reputation.
3.  Access live, accurate information to exceed customer expectations
How many times have you sent a potential customer away when your system wrongly tells you the item they were looking for is not in stock when it actually is?  Too many businesses are relying on inaccurate outdated information at the point of customer contact which has a huge impact on how customers view your business.  This can happen when you juggle multiple systems where data duplication and errors are commonplace.
One way to elevate this is to work with a back office system that truly integrates with your point of sale software.  Trade counter personnel deal with a wide variety of queries from numerous sources.  The ability to access stock level information quickly at the POS is a fundamental requirement and your systems should support this.
The single most attractive benefit of an integrated POS system is, of course, having access to live data at the point of customer contact.  You have no need to doubt the information you are receiving or worry that everything has been updated.  Your data is completely up-to-date and accurate ensuring your counter staff have access to the information they need when they need it.
This can include real-time access to…
Customer balances
Customer credit limits (of actual and committed debt)
Stock information
Pricing
Customer price lists.
Accurate, real-time and up to date stock control is also critical to your business. Your business software is key to managing this aspect of your business. By knowing accurately what stock you have, you can avoid time-consuming processes such as dealing with customer queries, issuing credit notes and re-stocking.
With the right systems in place, you'll also find end users empowered to make immediate decisions to carry out their job with maximum efficiency using custom order entry menus.  A more effective staff and better customer service can lead to increased sales.
4.  Attract new people into your store with innovative pricing and promotions
When it comes to increasing retail sales, it pays to be creative. These days you are competing with online stores that offer customer reviews, product information and product comparisons to consumers within a matter of minutes. So how can you compete with this high-level of information sharing and increase sales in your store?
One potential strategy to combat this is to maximise the vast amount of customer and product information you've built up over the years. As mentioned above the right business software and POS system can empower employees and customers with the information at the right time, transforming the shopping experience so it is convenient and easy.
The right systems can speed up order processing and utilise a customer's purchase history to suggest products.  At the customer point of contact, you should use every opportunity to upsell featured products, discounted items or related products; something not all staff are encouraged to do. Amazon does this very successfully.  With a fully integrated POS system in your store, you can replicate this on the ground.
We also suggest that you gather consumer data to predict purchase patterns and deliver relevant content. Customers are always on the lookout to save money – package deals are a great way to appeal to them, make more money and move more products at the same time.
Got lots of stock sitting on the shelves for ages?  Again, this ties up money that could be better spent elsewhere in your business.  Running a report to see how long a product has been on the shelf and how many have been sold since they were bought can be a great help.  This will help you uncover slow-moving stock so that you can get them up to the front of your premises and sell them off with a special offer.
5.  Create an inviting, engaging store
When you visit a leading builders' providers' store, you must notice how effectively they have managed their products. The trendy display stands showcase products in a standardised way that make their products very appealing.
First impressions are key to increasing a consumer's likelihood of buying (and returning).  A good first impression starts with your storefront. Clean windows, attractive displays and good lighting increase visibility inside your store.  For people driving or walking by who only have seconds to view your storefront, simple things like this can give the appearance of a more pleasant shopping experience.
Broken shelves, untidy displays and dirty floors won't cut it anymore.  Not when customers are doing more and more of their shopping online or heading straight to the big stores with their ambient lighting and spacious aisles.
Keeping your store clean, tidy and organised is an important aspect of ensuring a customer's visit is a pleasant one. A well-kept and tidy store increases the chance of a return visit or customer recommendation.
Ideally, you're looking to…
Deliver a unique and memorable retail environment where customers feel comfortable to linger and browse.
Create not just a shopping experience but an entire brand experience.
Increase customer loyalty and repeat purchase
Differentiate yourselves from your competitors
Increase profits
These 5 opportunities represent only a fraction of what you can do to improve your sales.  One thing is certain though, the systems you have in place are key to taking advantage of a growing economy and an increase in consumer spending.
Guest Blogger: Fiona McGuinness, www.intactsoftware.com
Image/Copyright: intactsoftware